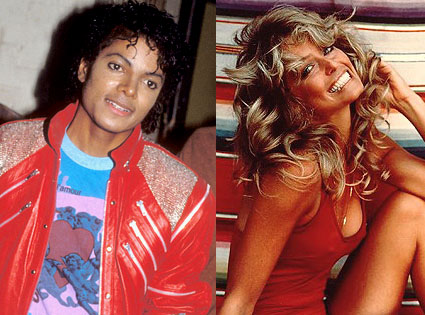 There's been a lot of controversy this week over the amount of talk about Michael Jackson's death, never mind the controversy that already surrounded him. And poor Farrah, who has also been made fun of at times, was barely mentioned. For me, it's been a very sad few days. And frankly, it hasn't been easy to find someone to commiserate with. The people I know either don't care, or are irritated by the subject.
As a young girl when Charlie's Angels was on tv, Farrah Fawcett of course didn't do as much for me as she did for boys. It was sort of a silly show, but it was a popular one that we watched because it was a hit. It was cute. And entertaining. All the girls wanted Farrah hair. And all the boys had the famous bathing suit poster on their wall. She was a celebrity who was known my her first name. Eventually she married Lee Majors, The Six-Million Dollar Man, and became Farrah Fawcett-Majors. Two major 70s icons became a couple. I lost track of her as her career waned, until she starred in the movie The Burning Bed, for which she received an Emmy nomination. An emotional drama, Farrah played a woman who was abused by her husband. And she was wonderful.
After her split with Majors, Farrah became involved with Ryan O'Neil, which became a romance that would last the rest of her life. It was a tumultuous relationship, but when she was diagnosed with cancer in 2006, she made one call to O'Neil and he was by her side through her illness. They loved each other very much, which the audience could see clearly in Chasing Farrah, the reality show they did together in 2005. Less than a week before her death, they decided to finally marry after all of those years. After she died, O'Neil replied to a few questions as he drove away from the hospital with "She's gone" and "I'm not ok".
I don't think Farrah was ever taken very seriously, because she began her career as just a beauty. And it seemed to be the one thing that she really wanted. Just to be taken seriously and appreciated. Perhaps this finally happened with Farrah's Story, a documentary about her battle with cancer. Shot with her own video camera, it showed what Farrah went through in her struggles with cancer, and showed the love between her and O'Neil ever stronger.
She was a beauty. Even at 62. Even with cancer. But mostly on the inside.
The world was shocked when it heard that not only had Farrah passed, but Michael Jackson had been rushed to the hospital after cardiac arrest. Twitter choked as people desperately tried to find out what really happened, what was true, was he dead, and then waded through rumors about Jeff Goldblum and Harrison Ford. Eventually, it was confirmed that MJ had died at a hospital in Los Angeles. By then, there were mixed feelings all over the internet. Shock, sadness, disgust, apathy, and many people were already tired of hearing about it. Some felt a piece of their childhood had just been stolen. Some were glad that he wouldn't be able to hurt any more children. And some just plain didn't care about the death of a celebrity when so many other important things are happening in the world. My sister was just glad attention was taken away from the story about Mark Sanford's affair. By the time Dateline aired a special 2-hour program about Michael Jackson that evening, many just didn't want to hear one more thing.
But there were millions who were deeply saddened by the death of this troubled and talented soul. The top 9 downloaded albums on itunes were by Michael Jackson. Youtube videos were viewed. Blogs were being written. Pictures were being posted. Stories were told of how he was important in lives. And people all over the world were mourning his death.
Michael's fame began as an incredibly talented boy who headed the Jackson 5 with his 4 brothers. His voice and dancing were like nothing people had seen before. The Jackson 5 battled with The Osmond Brothers for #1, but their styles were so different it wasn't really a contest. It wasn't until many years later that we learned about the pressure put on the boys by their father, Joe Jackson. They rehearsed non-stop and Michael was punished if he didn't perform perfectly.
The band kept playing and recording into the 80s. They were not as popular as in the 70s, but had a hit with Shake Your Body Down to the Ground. It was in 1979 that Michael made a huge comeback with his album, Off the Wall. It was the beginning of his modern career. He was rediscovered by those who 'knew him when', and discovered anew by younger fans. And, of course, there was Thriller, the best selling album of all time, which will never be topped now that the record industry has changed so much. The title song was not only a hit for the music, but for the fantastic video, which was actually more of a short horror film. With incredible choreography, everyone began to dance the Thriller dance.
No one disputed the fact that Michael Jackson was a hugely talented performer. But his personal life became extremely controversial and strange with every year that went past. Jackson was injured by fireworks during a half time performance at Super Bowl XXVII. Some speculate that this sparked a long-time addiction to prescription drugs. Many people believed that Jackson's 2-year marriage to Lisa Marie Presley, Elvis Presley's daughter, was a publicity stunt to assist his image after allegations of molesting a 13-year-old boy. He was then married to Debbie Rowe for three years, during which time they had two children, Michael Joseph Jackson, Jr. and Paris Michael Katherine Jackson. But apparently never shared a home. Did he marry her just for the children? A third child was born to a surrogate mother, Prince Michael Jackson II aka Blanket.
He had an amusement park estate called Neverland Ranch, where he invited many children, he purchased the elephant man's skeleton, he had a monkey named Bubbles, and dangled Prince Michael II from a balcony in front of a crowd of people, just a few examples of his bizarre behavior. He was arrested, tried, and acquitted of child molestation and related charges. Jackson first had plastic surgery on his nose in 1979. Over the years, his looks changed little by little including at least two more surgeries on his nose, plus his eyebrows, cheekbones, chin, and eventually his skin color. His face became more and more angular, strange, and almost ghoulish. Michael clearly had problems. He often wore a cloth over his nose and mouth, and sometimes put one on his children, as well. His weight fluctuated and he wore makeup.
Jackson alienated a lot of people with his odd, some say criminal, behavior. But he also had a huge following of devoted fans. I can't comment on charges against him. I don't know enough about it. But I do believe Michael had some serious difficulties, whether they were emotional, mental, or caused by drug use, that greatly affected his actions. He had a troubled soul, whatever the reason. Because of that, I never had strong feelings about his personal life either way. It was clear that he was happiest and most at home while performing. And he certainly was good at that.
Farrah and Michael, may you find peace.